SonicWALL Continuous Data Protection (CDP) 6.0

Preserve, Replicate, Archive, Govern and Restore Data with Ease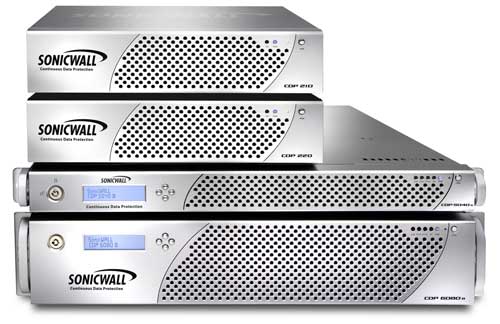 Customers Please Note: The SonicWALL CDP Line has been discontinued. Hardware, subscriptions, and support renewals will continue to be available until our remaining stock is depleted. SonicGuard.com recommends contacting us for alternative solutions.
Dell® SonicWALL® Continuous Data Protection (CDP) v6 is a next-generation data backup and disaster recovery solution that automatically preserves and protects business-relevant data assets against loss from file, device, and location based disasters. With support for Windows®, Linux® and Mac OS® through a single Web GUI, CDP provides granular, globally enforced policy controls over the entire backup operation.
Unmatched flexibility enables IT administrators to dictate what information to backup, what to exclude and how the information should be maintained to adhere to recovery and compliance requirements. A sophisticated new fileset backup methodology combined with agent-based data de-duplication moves and stores only unique data blocks. This speeds the backup process and optimizes bandwidth usage while maintaining total information continuity and the ability to flexibly restore multiple revisions.
Dell SonicWALL Continuous Data Protection v6 offers the comprehensive data protection organizations demand and the power administrators need for vigilant data backup and disaster recovery.
The right backup and recovery solution for your business.
Dell® SonicWALL® offers a wide range of Continuous Data Protection (CDP) 6.0 appliances scaled to fit the budget, performance and capacity needs of any organization. With capacity up to 20 TB, Gigabit Ethernet connectivity, RAID 5 support, and replaceable components, Dell SonicWALL CDP 6.0 is designed to meet today's demanding requirements for performance and scalability.
| | | | |
| --- | --- | --- | --- |
| The CDP 6080B is ideal for larger organizations with multiple workstations and server applications. With a usable capacity of up to 20 TB, Gigabit Ethernet connectivity, RAID 5 support, and replaceable drives and power supplies, the CDP 6080B is also a perfect upstream unit to back up multiple CDP appliances in a site-to-site data backup environment. | For small and medium sized organizations demanding high capacity, the CDP 5040B can also be deployed as an upstream unit in a site-to-site data backup environment. The CDP 5040B provides flexible disaster recovery for multiple workstations and server applications with a usable capacity of up to 10 TB, Gigabit Ethernet connectivity, and RAID 5 support. | For small, remote and branch offices and distributed environments that require flexible disaster recovery for multiple workstations and servers, the CDP 220 provides a usable capacity of up to 3.4 TB. | The CDP 210 is designed to be used in small, remote or branch offices for workstation backup and provides a usable capacity of up to 1.7 TB. |