SonicWALL WXA 6000 WAN Accelerator Software

Significantly enhanced WAN performance and user experience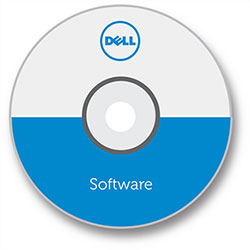 SonicWALL WAN Acceleration Series
WXA 6000 Series
WXA 6000 Base Software including 1 Year Software Subscription and Dynamic Support 24x7
#01-SSC-9078
List Price: $12,995.00
Call For Lowest Price!
More pricing below, click here!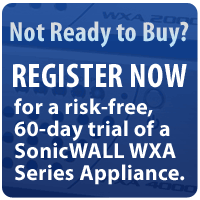 Overview:
Maximize WAN performance with a smart software solution.
Businesses aiming to significantly enhance WAN application performance and improve WAN acceleration using powerful Dell hardware can benefit from the SonicWALL WAN Acceleration software (WXA) 6000. Similar to traditional SonicWALL WXA hardware solutions, the WXA 6000 reduces application latency, conserves network bandwidth and improves the end user experience—only it's delivered as software for use on a dedicated Dell hardware platform. Unlike standalone acceleration products, the SonicWALL WXA 6000 seamlessly integrates with SonicWALL E-Class Network Security Appliance (NSA), NSA and TZ Series Next-Generation Firewall solutions to offer the unique combined benefit of both prioritizing and minimizing application traffic between sites, resulting in optimal network performance.
Significantly enhanced WAN application performance and user experience
In today's distributed enterprise, efficient utilization of bandwidth, increased security, and ease of deployment and management are important factors when considering a WAN acceleration solution. Throughput can be exhausted by collaboration applications such as Microsoft® SharePoint and Windows® File Sharing. At the same time, due to the popularity of Web 2.0 and social media, an exponential increase in Internet traffic is already overburdening WAN bandwidth. This inefficient utilization of available bandwidth results in higher latency, lowering employee productivity. Spending more on increased bandwidth or enhanced services, or purchasing disparate point solutions, does not resolve the problem.
The SonicWALL WAN Acceleration Appliance (WXA) Series enables you to easily and securely enhance WAN application performance at remote and branch offices, thus improving the end user experience that leads to increased productivity. Unlike standalone WAN acceleration products that are deployed either behind the firewall or between the firewall and WAN router, the SonicWALL WXA Series is an integrated add-on to the SonicWALL Next- Generation Firewall. The solution enables comprehensive scanning for intrusions and malware before accelerating the traffic across the VPN or dedicated WAN link, thus maximizing security and performance. The WXA optimizes performance and reduces latency by transmitting only new or changed data across the network after initial file transfer, resulting in dramatically reduced traffic volumes. In addition, the managing firewall enables you to identify and prioritize application traffic while the WXA minimizes traffic between sites.
The SonicWALL solution streamlines the placement, deployment, configuration, routing, management and integration of the WXA with other components such as VPNs. Consolidating WAN acceleration with core Next-Generation Firewall technologies including intrusion prevention, anti-malware, and application intelligence, control and visualization at the gateway significantly increases security while lowering the total cost of ownership.
The powerful combination of a SonicWALL Next-Generation Firewall and WXA enables you to more efficiently manage your bandwidth and simplify Next-Generation Firewall and WAN Acceleration deployment and management without compromising security. SonicWALL makes it easy for you to add a WXA solution into your network by providing a variety of platform options including both hardware and virtual appliances as well as Live CD software.
Features & Benefits:
The SonicWALL WXA 6000 software improves application performance through innovative WAN acceleration and optimization technology. Plus, it provides added control over the platform and the WAN acceleration application itself.
Drastically simplify deployment, routing and integration of multiple WXA appliances across your network through complete provisioning and configuration by a SonicWALL Next-Generation Firewall.
Add a layer of security by scanning all data for threats before sending it to the WAN acceleration appliance using SonicWALL Reassembly-Free Deep Packet Inspection® technology.
Optimize network efficiency to give users LAN-like application performance over your WAN by decreasing latency and chattiness presented due to inefficient protocols or application communication.
Extend the long-term value of your existing WAN links and enhance the user experience by dramatically reducing bandwidth consumption through byte and file caching.
Reduce total cost of ownership (TCO) by increasing efficiency and overall utilization of your existing WAN bandwidth, thus avoiding costly WAN upgrades.
Increase performance and reduce latency with data compression across the WAN.
Improve response time while decreasing the amount of data transferred when downloading or accessing files from a shared drive, using Windows File Sharing (WFS) acceleration.
Increase browser response time while decreasing bandwidth using HTTP (Web) caching.
Get better insight into performance gains from WAN acceleration with real-time visualization.
WAN Acceleration client software allows traffic initiated from remote Windows PCs or laptops running NetExtender to be accelerated.
Deployment Scenarios:
SonicWALL WXA Series deployment scenario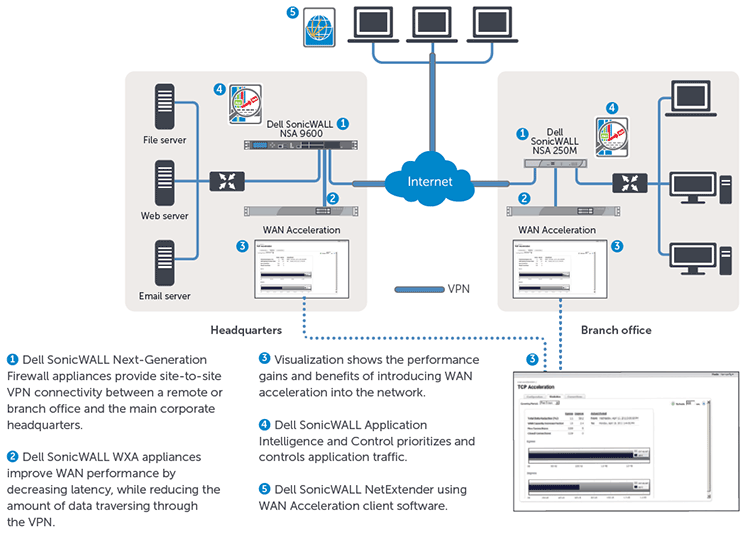 HTTP (Web) caching deployment scenario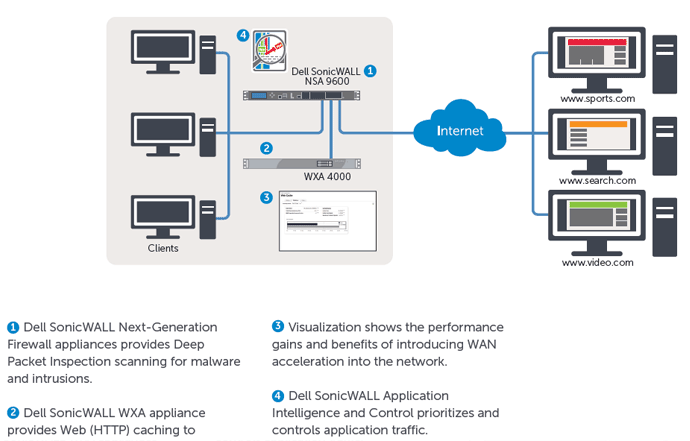 Specifications:
WXA Series Specifications
Model
WXA 500 LiveCD
WXA 2000
WXA 4000
WXA 5000 Virtual Appliance
WXA 6000 Software
Platform
Software5
Hardware Appliance
Hardware Appliance
Virtual Appliance (VMware)
Software5
Maximum Users1
20
120
240
360
2,000
Maximum Connections
100
600
1,200
1,8003
10,000
Maximum Flows
100
600
1,200
1,8003
10,000
Included/maximum concurrent WXA client licenses4
2/20
2/50
2/125
2/125
2/125
Byte Caching
Yes2
TCP/File Compression
Yes
Management
Requires SonicOS 5.8.1 or later
CIFS/SMB acceleration
Yes2
Yes
Signed SMB support
Yes
WFS/TCP visualization
Yes
SNMP
Yes
Syslog
Yes
Operating System
Hardened SonicWALL Linux OS
Rack-mount Chassis
-
1U Rackmount
-
CPU
-
Intel 2.0 GHz
Intel Dual Core 2.0 GHz
-
RAM
-
2 GB
4 GB
-
Hard Drive
-
250 GB
2 x 250 GB
-
Redundant Disk Array (RAID)
-
-
RAID 1
-
Dimensions
-
17.0 x 16.4 x 1.7/in
43.18 x 41.59 x 4.44 cm
-
Weight
-
16 lbs/7.26 kg
-
WEEE Weight
-
16 lbs/7.37 kg
-
Power Consumption (Watts)
-
86
101
-
BTUs
-
293
344
-
MTBF (Years)
-
14.27
-
Dell Hardware
Dell OptiPlex 3010, Dell Inspiron 660s, Dell Vostro 270s
n/a
Dell PowerEdge R320 Server
Hypervisor
-
-
-
ESX and ESXi (5.0 and newer)
Operating System Installed
-
-
-
Hardened SonicLinux
Minimum CPU
-
-
-
2 x 1.6 GHz
Allocated Memory
-
-
-
4 GB
Applied Disk Size
-
-
-
250 GB
1 Maximum users may vary depending on the number of connections being generated per user.
2 CIFS/SMB acceleration is available only when the WXA software image is installed on the supplied Dell hardware.
3 The max number of connections is dependent on the hardware specifications and may vary depending on the hardware configuration. The specifications provided are the minimum requirements to run the WXA Virtual Appliance.
4 NetExtender is required in order to use the WXA client software. Please refer to the WXA release notes for supported operating systems.
5 The WXA 500 and 6000 software can be downloaded from www.mysonicwall.com and requires specific Dell hardware in order to operate.
Pricing Notes:
Pricing and product availability subject to change without notice.
WXA 6000 Series
WXA 6000 Base Software including 1 Year Software Subscription and Dynamic Support 24x7
#01-SSC-9078
List Price: $12,995.00
Call For Lowest Price!
WXA 6000 Series Software Subscription and Dynamic Support 24x7
WXA 6000 Software Subscription and Dynamic Support 24x7 (1 Year)
#01-SSC-9079
List Price: $3,195.00
Call For Lowest Price!
WXA 6000 Software Subscription and Dynamic Support 24x7 (2 Years)
#01-SSC-9039
List Price: $5,432.00
Call For Lowest Price!
WXA 6000 Software Subscription and Dynamic Support 24x7 (3 Years)
#01-SSC-9040
List Price: $7,668.00
Call For Lowest Price!
WAN Acceleration Client Add 1 Concurrent User
#01-SSC-7160
List Price: $50.00
Add to Cart for Our Price
WAN Acceleration Client Add 5 Concurrent Users
#01-SSC-7161
List Price: $215.00
Add to Cart for Our Price
WAN Acceleration Client Add 10 Concurrent Users
#01-SSC-7162
List Price: $345.00
Add to Cart for Our Price
WAN Acceleration Client Add 25 Concurrent Users
#01-SSC-7163
List Price: $850.00
Add to Cart for Our Price
WAN Acceleration Client Add 50 Concurrent Users
#01-SSC-7164
List Price: $1,650.00
Add to Cart for Our Price
WAN Acceleration Client Add 100 Concurrent Users
#01-SSC-7165
List Price: $3,250.00
Add to Cart for Our Price
WXA Software Clustering License, 10,000 Connections, 1 Year
#01-SSC-0859
List Price: $11,995.00
Add to Cart for Our Price
WXA Software Clustering License, 10,000 Connections, 2 Years
#01-SSC-0860
List Price: $20,392.00
Add to Cart for Our Price
WXA Software Clustering License, 10,000 Connections, 3 Years
#01-SSC-0861
List Price: $28,788.00
Add to Cart for Our Price
WXA Software Clustering License, 20,000 Connections, 1 Year
#01-SSC-0862
List Price: $19,995.00
Add to Cart for Our Price
WXA Software Clustering License, 20,000 Connections, 2 Years
#01-SSC-0863
List Price: $33,992.00
Add to Cart for Our Price
WXA Software Clustering License, 20,000 Connections, 3 Years
#01-SSC-0864
List Price: $47,988.00
Add to Cart for Our Price