SonicWALL SonicPoint Wireless Access Point Series

Secure, High-Speed 802.11ac and 802.11n Wireless Access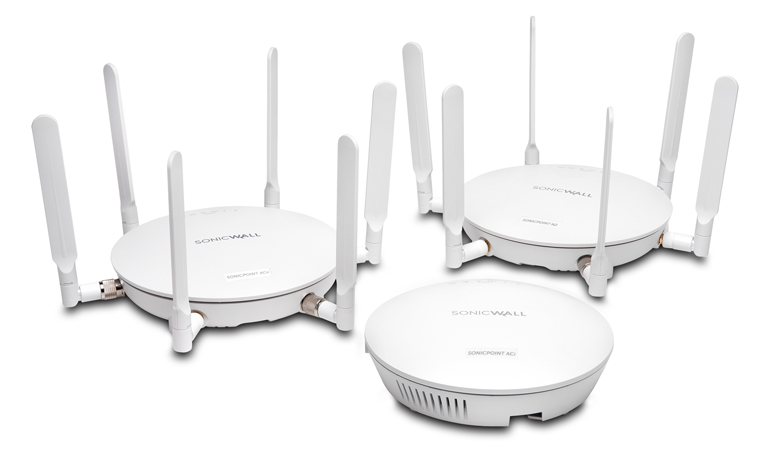 Rapidly deploy and manage your 802.11 wireless networks while securing wireless traffic and optimizing performance with the SonicPoint Wireless Access Point Series. Combine high-performance SonicPoint Series 802.11ac wireless access points with industry-leading SonicWall firewalls to achieve wired-like network security and performance on your wireless network.
Overview:
Secure, high-speed wireless networking
Discover high-speed wireless performance and security that dramatically simplifies your network setup and management. The SonicWall Wireless Network Security solution combines high-speed wireless technology with industry-leading next-generation firewalls to provide you with enterprise-class network security and performance on your wireless network.
Extended signal performance and quality
SonicPoint Series wireless access points give you high-speed wireless access with enhanced signal quality and reliability from a greater range. With support for IEEE 802.11a/b/g/n/ac standards, the SonicPoint Series enables your organization to use bandwidth-intensive mobile apps in higher density environments without signal degradation.
Comprehensive security
The SonicPoint Series integrates with SonicWall next-generation firewalls to create a secure wireless solution that delivers comprehensive protection for wired and wireless networks. Reassembly-Free Deep Packet Inspection technology scans your wireless traffic to eliminate threats, such as malware and intrusions.
Simplified integration and deployment
SonicPoint wireless access points are simple to deploy into your new or existing network. The SonicWall firewall automatically detects and configures SonicPoints across your network, easing setup.
Centralized ongoing management
SonicPoint wireless access points integrate tightly with SonicWall firewalls to offer a single pane of glass for wireless management and monitoring.
Low cost of ownership
Drastically reduce the cost to add wireless into your network infrastructure. Simplified deployment, single-pane-of-glass management and no need for you to purchase a separate wireless controller drastically reduce your costs to add a wireless network.
Model Lineup:
SonicWALL SonicPoint Wireless Access Point Series: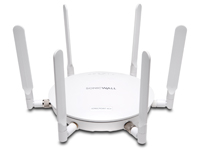 Take advantage of superior wireless network performance without sacrificing security. SonicPoint ACe wireless access points use 802.11ac technology to provide high-speed wireless connectivity. Easily set up and manage all your SonicPoints from a single location.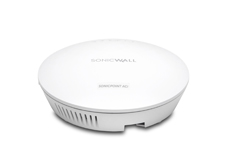 Extend your network with secure, high-speed wireless. The SonicPoint ACi wireless access point combines 802.11ac wireless performance, proven security, internal antennas and dimmable LEDs for discreet wireless networking environments.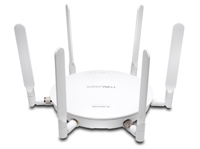 Building a secure, high-performance wireless network doesn't have to be expensive. SonicPoint N2 wireless access points feature high-speed 802.11n wireless connectivity, dual radios and all the other advantages that SonicWall wireless network security solutions offer, in a cost-effective solution.
Compare Models:
Model:
SonicPoint ACe
SonicPoint ACi
SonicPoint N2
802.11 Transport Standards
802.11a / b / g / n / ac
802.11a / b / g / n / ac
802.11a / b / g / n
Antennas
6 External
Fully internal
6 External
Removable Antenna
Standard
N/A
Standard
External Connectors
RP-TNC Male / SMA Male
N/A
RP-TNC Male / SMA Male
Powered by PoE
PoE and AC Adapter
PoE
PoE
PoE Power Requirements
802.3at
802.3at
802.3at
Profile Auto-provisioning
Standard
Standard
Standard
Virtual Access Points (VAP)
Up to 8
Up to 8
Up to 8
MIMO
3x3
3x3
3x3
Security
WEP, WPA, WPA2
Ciphers
TKIP, AES, 64/128/152-bit WEP
Wireless Authentication
Open, PSK, EAP
SSL VPN Enforcement
Standard
Standard
Standard
Wireless IDP
Standard
Standard
Standard
Wireless Guest Services
Standard
Standard
Standard
Lightweight Hotspot Messaging
Standard
Standard
Standard
MAC Filtering
Standard
Standard
Standard
Deployment:
Wireless Network Security scenarios
SonicWALL Wireless Network Security is the ideal solution for organizations of all sizes and types looking to build a secure, high-speed wireless network. Deploying SonicPoints in combination with a SonicWALL next-generation firewall provides enterprise-class wireless performance and security for businesses, schools, hospitals and other organizations.
Small Networks: Retail Store/Medical or Dental Office Deployments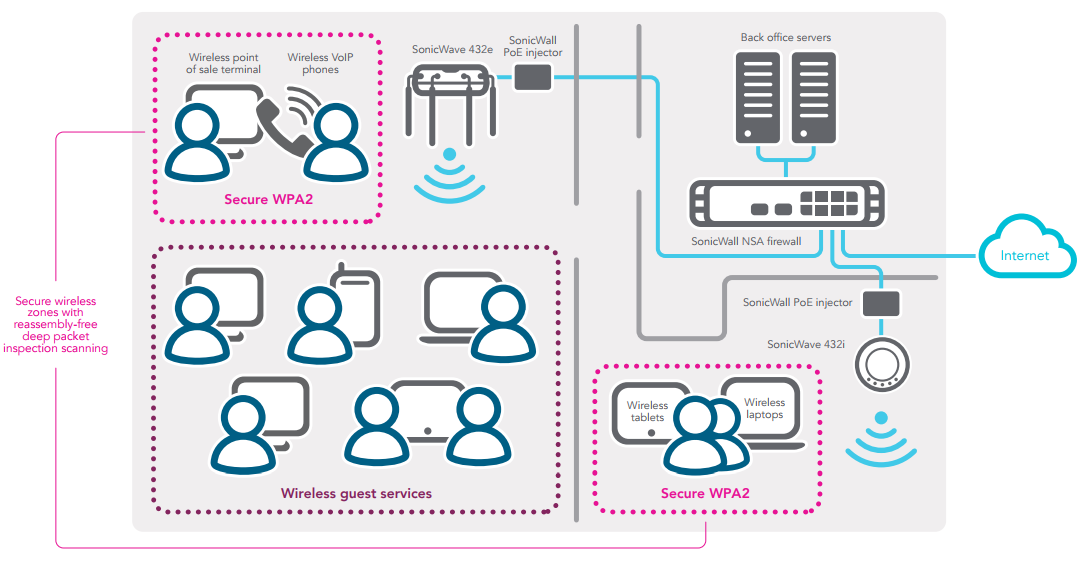 SonicWALL Wireless Network Security is perfect for small offices, such as retail or point of sale (POS) businesses, school classrooms, medical/dental businesses and banks. By combining SonicPoint ACe and SonicPoint ACi wireless access points with a SonicWALL firewall, these organizations can quickly extend wireless network access while providing deep packet inspection for both wired and wireless traffic at the gateway before allowing access to sensitive resources. SonicWALL wireless guest services offers password-enforced customer access to the Internet, while virtual access points provide logical segmentation of secure wireless network traffic and in-the-clear customer access.
Features:
SonicPoint ACe and SonicPoint ACi provide gigabit wireless performance with greater signal range and reliability.
SonicPoint wireless access points are auto-discovered and auto-configured by the central management gateway, easing deployment.
SonicPoint wireless access points enable employees to securely access network resources from the wireless network using SSL VPN or WPA2.
Virtual access points create secure segmentation between trusted and un-trusted wireless users by allowing broadcast of up to eight unique SSIDs.
Deep packet inspection technology detects and eliminates vulnerabilities and threats across all inbound and outbound wireless traffic.
Key security services, such as application control and content filtering, are enforced over the wired and wireless LANs.
SonicWALL wireless guest services and lightweight hotspot messaging enable organizations to offer customers wireless Internet access from a customized authentication interface.
SonicPoints allow the dedication of one radio to rogue access detection while the other supports users, helping achieve and maintain regulatory compliance.
Distributed Networks: Enterprise/Campus Deployments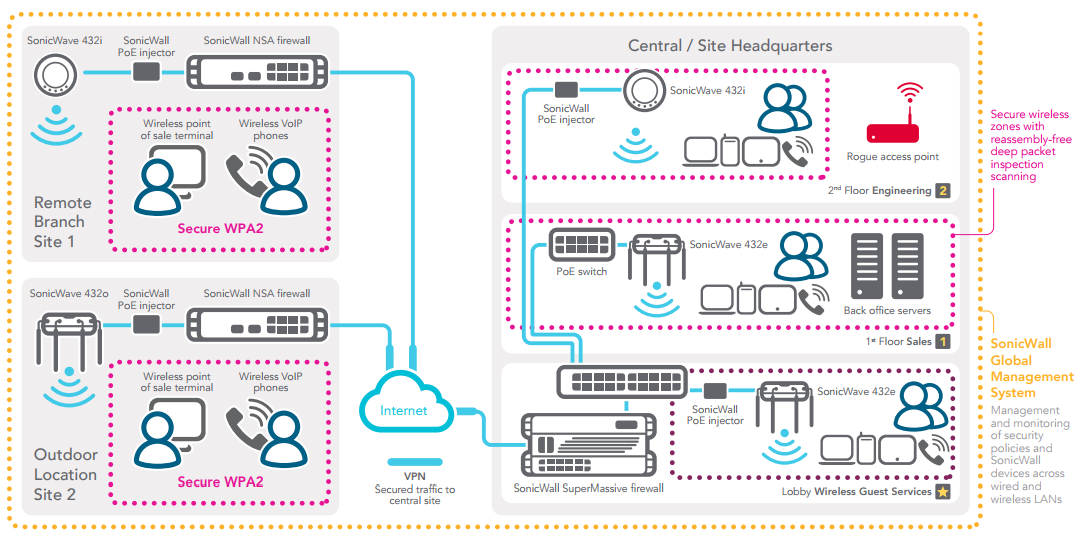 In distributed network environments that have a higher density of client associations, such as businesses with remote and branch offices, college campuses, school districts and healthcare provider networks, SonicPoint wireless access points provide superior wireless signal performance, range and quality. Employees, students and customers can securely access network resources on the wireless network using SSL VPN or WPA2. Using SonicWALL GMS, administrators can centrally manage every SonicPoint across the entire network, including creating and enforcing wireless policies, which eliminates the need for a separate wireless controller and reduces the total cost of ownership.
Features:
SonicPoint ACe and SonicPoint ACi provide gigabit wireless performance with greater signal range and reliability.
SonicPoint wireless access points are auto-discovered and auto-configured by the central management gateway, easing deployment.
SonicPoint wireless access points enable employees to securely access network resources from the wireless network using SSL VPN or WPA2.
Virtual access points create secure segmentation between trusted and un-trusted wireless users by allowing broadcast of up to eight unique SSIDs.
Deep packet inspection technology detects and eliminates vulnerabilities and threats across all inbound and outbound wireless traffic.
Key security services, such as application control and content filtering, are enforced over the wired and wireless LANs.
SonicWALL wireless guest services and lightweight hotspot messaging enable organizations to offer customers wireless Internet access from a customized authentication interface.
SonicWALL GMS provides central management and monitoring of the wired and wireless LANs, including the firewall and all SonicPoints that are connected to it